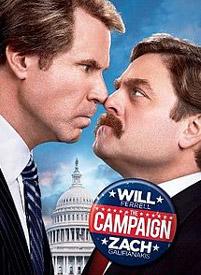 The Campaign
Rating:
2.63/5
From All the reviews on the web
Showing 4 Reviews
The Campaign Movie Review
Ratings
:2/5
Review by:
Rajeev Masand
Site:CNN IBN (IBNLive)
Unable to decide if it wants to be a demented comedy or a cheeky political satire, The Campaign starring Will Ferrell and Zach Galifianakis, is a promising but inconsistent film that takes some well-deserved jabs at the ridiculous business of American politics.The problem is that this screwball humor suddenly makes way for not-particularly-insightful social commentary (with thinly veiled references to major players), and as a result you're left with a film that's neither this nor that.I'm going with two out of five for The Campaign. Ferrell and Galifianakis are good. But they deserve better, and so do we
Visit
Site
for more
Ratings
:2/5
Reviewer:
Raja Sen
Site:Rediff
The Campaign, directed by Jay Roach of the Austin Powers series, is a film where these two hilarious men motor into autopilot and head into battle as rival politicians, fighting for a North Carolina seat. Ferrell swaggers around, Galifianakis nervously throws curveballs, and each performer predictably delivers punchlines with professional ease. There are laughs, sure, but mostly because of two actors who can eke out chortles without even trying. The gags itself, while sometimes funny, are instantly forgettable. Both deserve a script with better, and more, meat.Pity there's only that much barbecue sauce can do with undercooked meat.
Visit
Site
for more
Ratings
:3/5
Reviewer:
Allen O Brien
Site:Times Of India (TOI)
The political sarcasm aside, what really works for The Campaign is its timing. So far so good till you are half way into the movie and don't really care who wins. Why? First, blame it on the plot which has nothing new to offer that you have never seen, imagined or heard from the world of politics before. Second, even as the candidates get dirty with each passing day, there is a moment of truth (and all that bhashan stuff) that spoils all the fun: How much (of dirtiness) is too much when it comes to winning that hot seat. Unless, of course, you like your comedy to be all politically correct.
Visit
Site
for more
Ratings
:3.5/5
Reviewer:
Daniel Pinto
Site:DNA
With its simple theme about how political expediencies messes up good people (or people who started out good anyway). The Campaign isn't biting political satire. But moments of sharp astuteness shine through the crudeness that would make folks, who by no stretch of their imagination consider themselves to be schoolmarms, turn crimson. For a film which talks about how big (and inherently evil) corporations insidiously influence legislature, among other weighty issues, it makes for a decent watch.
Visit
Site
for more