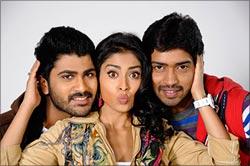 Nuvva Nena Rating:
2.12/5
From All the reviews on the web
Showing 4 Reviews
Nuvva Nena Movie Review
Ratings:

2.5/5

Reviewer:

Radhika Rajamani
Site:Rediff
Debutant director Narayana scripts and directs this entertainer which is fun from the word go. Two guys going after the same girl is nothing new but Narayana's casting (Allari Naresh, Sharwanand and Shriya) makes Nuvva Nena a good film to watch.Nuvva Nena is a light-hearted caper and good for some hearty laughs
Visit
Site
for more
Ratings:

2/5

Reviewer:

Venkat
Site:GreatAndhra
this film doesn't have a comedy that can appeal to any genre of audience. Whatever comedy is there has been seen already. So, most of it is forcible laughs but not natural.Like an old comedy serial in Doordarshan which comes repeatedly, the 'sense of humour' of audience is tested. Those who look for sensible comedy might as well wait for the DVD to arrive or can prefer any other movie of Allari Naresh.Bottomline: Torturous comedy
Visit
Site
for more
Ratings:
2/5
Reviewer:
OneIndia
Site:OneIndia
He winded the story in just two hours without causing boredom to the audiences. Moreover the film has equal comedy in the first half and the second half. Though the fight between both the heroes in the second half tested the patience of the audiences, the film as a whole went on as a good entertainer.Of course, the story of the film is run-of-the-mill subject and the audiences have seen such films many a time. However, it is the director's ability that makes the audiences to sit till the end.
Visit
Site
for more
Ratings:

2/5

Reviewer:

IndiaGlitz
Site:IndiaGlitz
Nuvva Nena is an apt title. It is because the director and the actors (almost all the characters in the movie) are competitively brainless here!. The dialogue writer's 'creativity' was curbed by the Censor Board. Is there a Turkey Award for Cuss Words in our State? If not, why this desperation to outshine others in penning expletives? In any case, not a line was intelligent. Even mediocre children's films have better humour.All in all, Nuvva Nena is beyond bad. It is unnatural, to put it mildly.
Visit
Site
for more