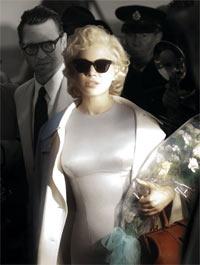 My Week with Marilyn Rating:
3.33/5
From All the reviews on the web
Showing 3 Reviews
My Week with Marilyn Movie Review
Ratings:

3/5

Reviewer:

Rajeev Masand
Site:IBNLive(CNN IBN)
My Week With Marilyn is no revelatory biopic; the film unfolds through the perspective of an infatuated boy. What makes it more than just an awestruck reverie, however, is the remarkable acting by its solid ensemble.I'm going with three out of five for My Week With Marilyn. Don't expect a piercing look into the life of one of the most talked-about women in the world; just enjoy it for what it really is – a nostalgic portrait of a bygone era of filmmaking.
Visit
Site
for more
Ratings:

4/5

Reviewer:

Avijit Ghosh
Site:Times Of India(TOI)
The movie looks at the relationship from Colin's point of view and makes him a young gentleman who offers to rescue Marilyn only to be refused. But My Wweek with Marilyn also brings out the inner loneliness and anxiety of the world's most famous woman of the time. It brings out all that she values and wants.

Filmed partly in the picture postcard British countryside, the movie is another elegy to the legend of Marilyn Monroe. It is also an ode to young love. At the end of it all when a wise old actor tells Collins, "First love is sweet despair," we understand what she means.
Visit
Site
for more
Ratings:

3/5

Reviewer:

Nishi Tiwari
Site:Rediff
My Week with Marilyn is a biographical film based on British filmmaker and writer Colin Clark's two books that chronicle the shooting of Monroe's 1957 film The Prince and the Showgirl. Monroe arrives in London with her then new husband, famous American playwright Arthur Miller to shoot for the film.What follows is the film crew's tumultuous attempt (owing entirely to Monroe's erratic behaviour and 'method acting') to complete the film. While other team members look on from the sidelines -- they are in awe of Monroe's persona and can't decide what to make of her behaviour and insecurities.In the end, though, the only talking point of the film is Marilyn Monroe, not because the other actors, the script, the background score are bad, but because, as Olivier remarks while watching a rough cut of the film, "You forget everything else when she gets it right."
Visit
Site
for more