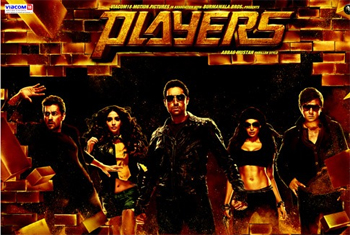 Players Songs
Rating:
2.87/5
Check Players Movie Review here


From All the reviews on the web
Showing 4 Reviews
Players( Hindi Movie) Music Review
Ratings:

3.5/5

Reviewer:

Joginder Tuteja
Site:BollywoodHungama
'Players' delivers what one expected from it. The need of the situation was to have a racy score that compliments the fast paced story telling of Abbas-Mustan. While one waits to see how the director duo does justice to the film's genre, the first step here (music) is indeed in the right direction. Though the song which has the most potential of being a 'lambi race ki ghoda' is 'Dil Ye Bekarar Kyun Hai', others would work as instant coffee that would keep the momentum up for the film's narrative.OUR PICK(S) Dil Ye Bekarar Kyun Hai, Jhoom Jhoom Ta Hun Main, Buddhi Do Bhagwaan - Charlie's Song, Ho Gayi Tun
Visit
Site
for more
Ratings:

3/5

Reviewer:

Abid
Site:Glamsham
PLAYERS, a stylish packed hi-voltage action thriller has cool and reasonably good listening soundtracks to its credits. As anticipated from its huge expectations, it proves to be an above average affair but lacks the zing and zeal of being 'spectacular' or 'earth-shattering' like the composer's previous works in this genre which have been big successes in their respective years of release. Against all odds, it delivers a decent package of listening entertainment. The album does very well in soundtracks like 'Dil ye bekarar kyun hain' and highly promoted 'Jis Jagah se Khatam' while there are bags of amusement to be explored in tracks like 'Buddhi do Bhagwan' and 'Ho gayi tun'.
Visit
Site
for more
Ratings:

2.5/5

Reviewer:

Sukanya Verma
Site:Rediff
The soundtrack by Pritam, to Ashish Pandit's lyrics, follows the same brief given to slick multi-starrers like Dhoom 2 and Race -- sound, style and spunk. Expectedly, the songs go in for the snazzy factor beginning with the theme song, Jis jagah pe khatam, highlighting the coolness behind the titular unit's motto.After four very popular albums this year, Ready, Bodyguard, Dum Maaro Dum and Mausam, Pritam dishes out yet another album that is a mix of sure-shot winners and drab space fillers.
Visit
Site
for more
Ratings:

2.5/5

Reviewer:

Vanessa Barnes
Site:Bollyspice
The good news is that Pritam has created exactly the type of soundtrack to perfectly fit and complement the material onscreen. The Players album (5 original tracks, 5 remixes/alternate versions) can be summed up as a cyber-cool mood enhancer – and I think that in conjunction with visuals – some of which we've already had a taste of in the promising, well-received trailer – the songs will be effective.The bad news? I think as a whole, listened to on its own, the album is pretty average – and if you don't like auto-tune, or excessive remixes, steer well clear.
Visit
Site
for more