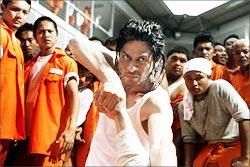 Don 2 Songs
Rating:
2.7/5
Check Don 2 Movie Review here
From All the reviews on the web
Showing 5 Reviews
Don 2Music Review
Ratings:

3/5

Reviewer:

Joginder Tuteja
Site:BollywoodHungama
As mentioned at the very beginning, nothing less than a rocking album was expected from Don 2. However, what one gets to hear is a soundtrack which is pretty much a mixed bag. At places it works while at points, it just doesn't make you jump with joy. Also, there isn't anything which comes across as memorable enough to be played a few months down the line, leave aside a few years. Eventually what you get is a soundtrack that would go along with the narrative and acts as a good situational ingredient but that's about it. OUR PICK(S) Hai Ye Maya, The King Is Back - Theme, Zaraa Dil Ko Thaam Lo
Visit
Site
for more
Ratings:

2/5

Reviewer:
Sukanya Verma
Site:Rediff
With the pressure of comparisons with the original off them, Don 2 offered the composer troika an ideal opportunity to go wild and inventive. Instead they submit a safe, self-conscious and, at the most, serviceable album when the words I would have liked to confer been rocking and rebellious.
Visit
Site
for more
Ratings:

3/5

Reviewer:
Satyajit
Site:Glamsham
DON 2 is composed aesthetically to match out varied situations, circumstances and feel of the flick rather than offering out a set of melodious or chartbusting numbers for the listeners. It cannot be hailed as chartbusting as DON-THE CHASE BEGINS or RA.ONE but has the relevant spice and vigor to make thing work on big screen. S-E-L are certainly not at their best this time as they have stressed too much in glorifying the signature tuneful appeal of DON in almost every soundtrack. The album lacks novelty factor to a great extent but delivers quality works in a couple of soundtracks. Among the credit listing the finest of the lot are Usha Uthup's rendered 'Hai ye Maya' and 'Zara Dil ko Thaam Lo' and are expected to be winners on D-Day while the rest of them should be rising to occasions in the days to come. Despite its blemishes, the album enjoys a strong promotion packed with bankable star cast, all fuelled and packed with hi-production value and international grandeur, an encouraging box-office show will surely write a different story for its musical merits.
Visit
Site
for more
Ratings:

2.5/5

Reviewer:
Sheetal Tiwari
Site:BollySpice
In summary, even in the absence of pressures of living up to the 1978 original, SEL did not manage to create an impressive album with Don 2. Their work in box-office disaster The Game that featured similar themes with Don 2 was more commendable than this.In any event Zara Dil Ko Tham Lo, The King is Back and Yeh Hai Maya (Remix) are the pick of the pack. Maybe Mujhko Pehchaan Lo if Don fans manage get over Shaan's Main Hoon Don. The Don Waltz may be effective as part of the film's narration but does not do any favours to the OST while Dushman Mera is a total write off.
Visit
Site
for more
Ratings:

3/5

Reviewer:
Vivek V Warrier
Site:Koimoi
Overall, the Don 2 album falls short of expectations. Songs like Zaraa dil ko thaam lo and Hai ye maya show a lot of potential but cannot be termed as great mass hits. All the other songs are good too but, on the whole, they don't add up to a mass hit
Visit
Site
for more