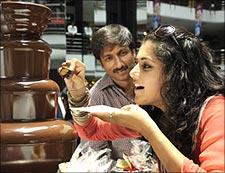 Mogudu
Rating
2.25/5
From All the reviews on the web
Showing 3 Reviews
Mogudu Movie Review
Ratings:

2.5/5
Reviewer:
Venkat
Site:GreatAndhra
Krishna Vamsi is a talented storyteller and a highly regarded technician. So it is natural to have high expectations on his films. Given the fact that this was a film on family bonding, some expected it to be another 'Murari'. However, there is a chalk and cheese difference between that. The primary reason for the film to suffer is a weak script. Taking cinematic liberties is alright but not to the extent where audience is dumbstruck.

As such, the idea of coming up with the value of marriage, importance of family is all good but there is a way one has to execute it and Krishna Vamsi has failed this time.
Visit
Site
for more
Ratings:

2/5
Reviewer:

Radhika Rajamani
Site:Rediff
Mogudu is another family entertainer from director Krishnavamsi, but the Telugu film is stuck in a time warp. It harks back to a time when such films reflected the society of which they were a part, but times have changed and so have people.On the whole, a disappointing film.
Visit
Site
for more
Ratings:

2.25/5
Reviewer:

SuperGoodMovies
Site:SuperGoodMovies
The last act in the film was dealt pretty badly. Although that is the only conclusion, he could give to this story, Krishna Vamsi pumped in too much drama and the characters behave in a weird fashion that they get on audience nerves.

Mogudu

is sheer disappointment on a whole. Despite preaching family values it won't appeal to family audiences too.
Visit
Site
for more