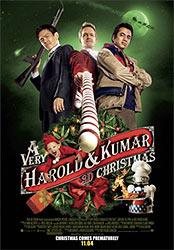 Harold & Kumar 3
Rating:
3.5/5
From All the reviews on the web
Showing 1 Reviews
Harold & Kumar 3 Movie Review
Ratings:

3.5/5

Reviewer:
Aseem Chhabra
Site:Rediff
The third installment of the Harold & Kumar franchise is outrageous, sometimes shocking and at times very, very funny. But the most important point is that a Korean-American actor -- John Cho and his Indian American counterpart Kal Penn are still able to make headlines. Serious filmgoers and those with discerning taste for good cinema should be warned. H&K3 is wacky, mindless, and it does not boast of a strong script or any other major artistic merit. But the film is hugely entertaining and it has a heart. Like the smoke and power that we almost inhale watching the film with the 3D glasses, H&K3 can be very addictive!
Visit
Site
for more