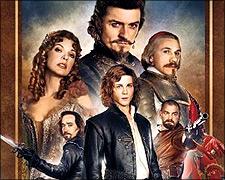 The Three Musketeers
Rating:
2.75/5
From All the reviews on the web
Showing 4

Reviews
The Three Musketeers Movie Review
Ratings:

3/5

Reviewer:

Nikhat Kazmi

Site:TimesOfIndia
We've read it all. And we've seen it all too. But this one's a little different: Imagine Alexandre Dumas' evergreen 1970 classic tale in a new avatar -- leather-clad scuba divers, sky battles in air ships, infra red beams, sword plays between troops on high rise buildings.... Just look at the musketeers as superheroes, and you might end up liking this one, especially when you realize the not-so-faithful-one lies within the kingdom.

for under the battle sequences and war machines, lies the more real and contemporary spirit of a musketeer: You've got to take risks in life, you've got to fail to rise, you've got to get into fights... and if you have to choose between honour and love, love it must be. Even now. An old story told with modern finesse.
Visit
Site
for more
Ratings:

2/5
Reviewer:
Shaikh Ayaz
Site:Rediff
Yet another reimagining of Alexandre Dumas' novel, director Paul W. S. Anderson's version of The Three Musketeers is as awful as one marginally expected. It looks more like a dress rehearsal for a period drama than a film. There are fancy sets and props and state-of-the-art effects but they do not compensate for lacklustre storytelling which becomes a side-piece in most such adventure films.Lester succeeded in making a really good film because he found a balance between the author's free rein and the director's restrain. On the contrary, Anderson finds no such balance. Therefore, his version falls flat as a poorly adapted one and its effect is further exacerbated by second-class acting.
Visit
Site
for more
Ratings:

2.5/5
Reviewer:
Daniel Pinto
Site:DNA
In The Three Musketeers, Dumas's book gets the dressed-up/dumbed-down popcorn blockbuster treatment. The film more or less clings on to the story from the book while upping the ante by ninja-fying the espionage elements and radically steampunking the technology. All in all, The Three Musketeers is as decent as ludicrous popcorn flicks come. There are some things to be thankful for, like robots or zombies not being in the plot.
Visit
Site
for more
Ratings:

3.5/5
Reviewer:
Shalini Langer
Site:IndianExpress
Director Anderson and his team of three scriptwriters imbibe that spirit and alter and modify it into a film that's exuberant in its celebration of an era where a very thin line divided decadence and chivalry -- the cast of this story is all dubious (with the possible exception of D'Artagnan and his lily-white Constance), but the cast of this story is entirely delectable.
Visit
Site
for more