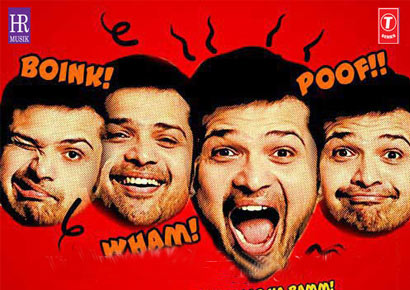 Damadamm
Rating:
1.9/5
From All the reviews on the web
Showing 6 Reviews
Damadamm Movie Review
Ratings:

2/5
Reviewer:
Rajeev Masand
Site:IBNLive
there's an inherent sensitivity and grace in the manner this relationship unfolds in their common workplace - the pain of going through a break-up with someone you have to see at work every day, watching an ex move on to another partner in front of your eyes, accepting that your relationship is over and being happy for the person you once loved. These scenes are treated delicately. If the film still doesn't hold, it's because it's underlined by an uneasy comic tone that's working at cross purposes here I'm going with a generous two out of five for director Swapna Waghmare Joshi's 'Damadamm'. What could've been a sweet, simple love story turns into a confused film that never justifies its spirited title.
Visit
Site
for more
Ratings:

2/5
Reviewer:
Taran Adarsh
Site:BollywoodHungama
DAMADAMM is not as memorable as the films made in the bygone era, but first-time director Swapna Waghmare Joshi makes a sincere attempt to tell a tale that's not commonplace. Beneath all the song and masala that's integrated in the story, you will find characters you can relate to.

Notwithstanding its plusses, DAMADAMM doesn't rise to those levels for two reasons. One, too many songs in the narrative. Two, the plot gets predictable after a point and loses the steam.

On the whole, DAMADAMM isn't bad, but it isn't great either. Though it has a hit score to its credit and some endearing moments
Visit
Site
for more
Ratings:

2/5
Reviewer:
Nikhat Kazmi
Site:TimesOfIndia
Ironically, it's the songs of the film which stand out much more than the script, narrative, drama and performances. Umrao Jaan, Madhushala and the title track are extremely peppy numbers which suddenly infuse life in an otherwise comatose film. So what does this prove? While Himesh remains an excellent music director, his acting skills will always remain largely a one-man belief: his own.
Visit
Site
for more
Ratings:

0.5/5
Reviewer:
Komal Nahata
Site:Koimoi
What's Good: A couple of songs; Purbi Joshi's acting. What's Bad: The holes in the screenplay; the routine story. Verdict: Damadamm! is a dull fare which will bomb at the ticket windows.Watch or Not?: Watch it if you are a fan of Himesh Reshammiya's music.
Visit
Site
for more
Ratings:

1/5
Reviewer:
Blessy Chettiar
Site:DNA
I write to tell you I watched Damadamm and there were some doubts that immediately crept up. First, why was the film's name changed from Ishq Unplugged to Damadamm? Secondly, why Damadamm? Thirdly, why you? I could go on. But I guess these are trivial things.A humble request: Do refrain from 'acting' in such dumb-a-dumb disasters. There are only so many blasts our weak hearts can take during Diwali.
Visit
Site
for more
Ratings:

2.5/5
Reviewer:
Daily Bhaskar
Site:Dainik Bhaskar
The story of Damadamm is simple, predictable with pinch of humour and emotions. The first part of Damadamm reflects the freedom of a lover trapped in a girlfriend's domineering behaviour cycle that too in a very humourous manner. The second half showcases the confused persona of Sameer, where he goes through an emotional journey, but it proves quite predictable. This one's a must watch for Himesh's fans for they'd get to see him act, sing and dance to his own tunes. And for people, who demand a strong storyline and want to be away from run-of-the-mill romance, this one's surely a strict no-no.
Visit
Site
for more
Also try:
Rockstar Review Narghis Fakhri