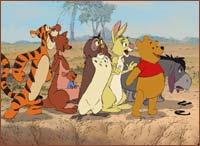 Winnie The Pooh Rating
2.63
/5
From All the reviews on the web
Showing 4 Reviews
Winnie The Pooh Movie Review
Ratings:

3/5
Reviewer:
Nikhat Kazmi
Site:TimesOfIndia
The beauty of the film lies in its hand drawn animated characters and the sheer simplicity of the narrative. The canvas of the film reads like a delightful bedtime book and brings back memories of childhood...Pooh and his friends even get to kick up some riotous fun with the alphabets and words that tumble all over the page/screen.

The film is largely meant for a younger audience but Disney fans are spread over all ages and nationalities.
Visit
Site
for more
Ratings:

3/5
Reviewer:

Shubhra Gupta
Site:India
nExpress
The creators of Winnie the Pooh imagine the Hundred Acre Wood as pictured by Milne and illustrator E H Shepard. That's a style they loyally adhere to, with the story forming itself on pages of a Winnie the Pooh book and the characters jumping out of it, walking on letters, sometimes crawling through words and leaping over paragraphs, and at other times, strolling across pages.

Pooh is sublimely adorable in his love for honey and his ineptitude for the written word,
Visit
Site
for More
Ratings:

4/5
Reviewer:
Sukanya Verma
Site:Rediff
Winnie the Pooh strives to achieve the credibility of the first-ever Pooh picture by staying true to the ethics of its original. And succeeds.Call it a lesson in friendship or a trip down memory lane, Winnie the Pooh is a humble reminder of simpler times where every selfless act is rewarded with a giant pot of honey. In other words, sure, nag your folks for the uber cool Captain America but be sure to grab a piece of Pooh. This bear's got heart.
Visit
Site
for more
Ratings:

0.5/5
Reviewer:

Mrigank Dhaniwala
Site:Koimoi
What's Good: The quality of animation; the comedy which will appeal to some kids; the voice acting.What's Bad: The very short duration of the film; the simplistic script which will bore almost all except some children.Verdict: Winnie The Pooh is a good fare for a section of the kid audience only. It will get little appreciation at the Indian box-office.
Visit
Site
for more