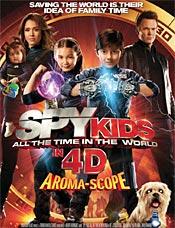 Spy Kids 4 Rating
1.5
/5
From All the reviews on the web
Showing 4 Reviews
Spy Kids 4: All The Time In The World Review
Ratings:

3/5
Reviewer:

Nikhat Kazmi
Site:TimesOfIndia
Fun all the way, Spy Kids 4 not only successfully carries the franchise forward, but makes for pleasant family viewing with its fine blend of sci-fi, gizmo and gadgetry and vignettes on family values too. Of course, there are lots of things to recommend....Like, Jessica Alba who must be the most glamorous spy on board in her tights with a baby tied on to her.

A roller-coaster ride all the way. Spy Kids 4 is an entertaining weekend watch.
Visit
Site
for More
Ratings:

1/5
Reviewer:
Shaikh Ayaz
Site:Rediff
Even if Spy Kids 4 is targeted at the kids, it takes its audience too lightly. Usually, such action-adventure films don't have a story and it's futile to look for one. What they have is a concept in place of a story and it must be reminded that even concepts divested of engagement with emotions are not worth it. Spy Kids 4 falls into the category of hype over heft.
Visit
Site
for more
Ratings:

1/5
Reviewer:
Shalini Langer
Site:IndianExpress

Rodriguez, who knows how to have fun with a film and imbue it with the joy, makes no pretence of trying to do anything here apart from hoping that the past three Spy Kids and the addition of a fourth dimension in the form of a card will do the trick. Time may be speeding up in the film, but chances are, you will find yourself counting minutes to the end.
Visit
Site
for more
Ratings:

1/5
Reviewer:
Mrigank Dhaniwala
Site:Koimoi
What's Good: The performances of the kids – Rowan Blanchard and Mason Cook; the funny lines spoken by Argonaut, the (speaking) family dog.What's Bad: The underdeveloped script; the zero value addition by the 4D element (smell); absence of appealing costumes and gadgets, which were the hallmark of the previous Spy Kids films.Verdict: Spy Kids: All The Time In The World is a below-average fare. Apart from a section of the audience in the cities, it will find no appreciation at the Indian box-office.Watch or Not?: Watch only if your kids insist.
Visit
Site
for more
Also Try:
Conan The Barbarian 3D Review
The Devil's Double Review
Captain America:First Avenger Review
Final Destination 5 Review