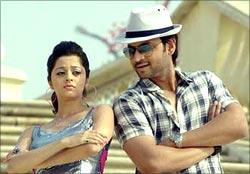 Daggaraga Dooranga Rating
2.16
/5
From All the reviews on the web
Showing 4 Reviews
Daggaraga Dooranga Movie Review
Ratings:

2/5
Reviewer:
Venkat
Site:GreatAndhra
The first thirty minutes of Daggaraga Dooranga is spent in silly scenes and the audience doesn't get a doubt that this will shape up as a thriller. The mass comedy between Rajesh and Raghu Babu worked as tonic for masses. Once the subject of terrorism enters, the screenplay should have picked up but that didn't happen. From there, the director didn't add comedy or enough thrill elements making it a boring subject.He annoys with a screenplay that lacks grip. If it was not for Brahmanandam's comedy that came to the rescue, Daggaraga Dooranga would have failed further
Visit Site for more
Ratings:

2.5/5
Reviewer:
Radhika Rajamani
Site:Rediff
Director Ravi Chavali has used terrorism to impart a touch of realism to his romantic thriller Daggaraga Dooranga. Chavali has ensured that the basic formulaic elements -- songs, action, comedy -- are there in the film. The songs are distracting and the comedy seems a little forced, but the film does have a slightly different feel though it falls squarely in the domain of commercial cinema.On the whole, Daggaraga Dooranga is watchable.
Visit
Site
for more
Ratings:

--
Reviewer:
Manvitha Chowdhary
Site:Andhravilas
The film is a low budget film and it shows clearly on the screen. There is noting much to say about the cinematography and other technical departments.The film does not have any positive things going its way. The film is poorly directed. The film has very little entertainment values and there is also far removed from a thriller. The director is clueless about handling a subject like terrorism. The climax is abrupt and predictive. Daggaraga Dooramga ends up as a below average film that has very little chance at the box office.
Visit Site for more
Ratings:

2/5

Reviewer:
--
Site:SuperGoodMovies
The concept of the film is very silly and lacks logic. There are too many loopholes to ignore. Director lacks vision and clarity over the concept he has taken up. First half is okay to some extent with irrelevant comedy scenes. Second hour should have been gripping and serious to keep the audiences on the edge of their seats.The screenplay is very loose and lacks the necessary thrills to make this a winner.
Visit Site for more
Also Try:
Dookudu Review