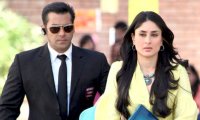 Bodyguard Rating
2.58
/5
From All the reviews on the web
Find
Bodyguard Movie Review
here
Showing 6 Reviews
Bodyguard Music Reviews
Ratings:
4/5
Reviewer:
Joginder Tuteja
Site:BollywoodHungama
The music of Bodyguard has in it to be hugely popular amongst audience as it has everything for everything. For the lovers of conventional music there is 'Desi Beats' while for Salman's fans there is the title track 'Bodyguard'. And then for those who are hunting for melody which boasts of a much longer shelf life, there is 'Teri Meri' and 'I Love You' (by Pritam) which are all set to rule the charts in days to come. For all these years if composer Himesh Reshammiya was indeed waiting for the right album to make a comeback then well, this is it!
Visit
Site
for More
Ratings:

2
/5
Reviewer:
Sukanya Verma
Site:Rediff
The soundtrack opens with Bodyguard to bellow out the merits of the self-proclaimed saviour against Reshammiya's dhinchak overload. The attempt to recreate another Dhinka chika is so explicitly obvious; it's almost pathetic to see the ploy fail. No wonder, I love you makes such an affable impression in comparison.Box office possibilities aside, the soundtrack is not write-off material but nothing to write home too with only awful, average and alright on its menu.
Visit
Site
for More
Ratings:
3.5/5
Reviewer:
Abid
Site:Glamsham
Summing up, the comeback album of Himesh Reshammiya did promise much but could not deliver vis-a-vis the huge expectations, but having said that, it's a Salman Khan album that we are talking about, and although we have listed the merits and demerits of the album (as a critic), two songs that are already getting quite popular are "Teri Meri" and Pritam's "I Love You" and there are bright chances that the title track of BODYGUARD will also appeal to the youth, especially after the predictably huge opening of the film this month end!
Visit
Site
for More
Ratings:

2/5
Reviewer:

Usha Lakra
Site:ApunKaChoice
Gone are the days when we used to hear melodious tracks in a Salman Khan film. After his films like Wanted, Dabangg and Ready, the music of a Salman film sounds similar. What a disappointment! With Salman and Kareena Kapoor it could have been way better.
Visit
Site
for More
Ratings:

2/5
Reviewer:
Sheetal Tiwari
Site:Bollyspice
Bodyguard, plainly put, is unremarkable and unimpressive. Salman Khan's winning streak of films, that is Dabangg, Wanted and Ready had great music but Bodyguard is a drastic disappointment. The soundtrack's saving grace is Shaan's I Love You and to a lesser extent the title track.In short, do not rush to your nearest music outlet for Bodyguard's OST. Just listen to it at the movies so that Salman Khan and Kareena Kapoor lessen the pain it will inflict on your ears.
Visit
Site
for More
Ratings:
2/5
Reviewer:
IANS
Site:NDTV
After his brief acting spree, music director Himesh Reshammiya returns to composing with Salman Khan-starrer Bodyguard. The album is out and out commercial, but its 12 songs offer nothing extraordinary or unique. On the whole, the album is quite average. Though none of the songs is very bad, there isn't any that really stands out and grabs attention.
Visit
Site
for More
Also Try:
Ra One Music Review
Mere Brother Ki Dulhan Music Review
Mausam Music Review