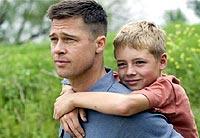 The Tree of Life Rating
:
3.87
/5
From All the reviews on the web
Showing 5 Reviews
The Tree of Life Reviews
Ratings:
3/5
Reviewer:

Rajeev Masand
Site:IBNLive
The Tree Of Life is a hugely ambitious film. It polarizes audiences, calling for endless discussions and debate on what it's trying to say through its relentless visual ideas. This Palme D'Or winner is a modern mind-bender. Writer-director Terrence Malick makes The Tree Of Life a deeply personal film, dipping into his own childhood, but all the while questioning God, his reasons for inflicting suffering, the beauty of life, and the ambiguity and the inexplicable nature of death.I'm going with three out of five for The Tree of Life. It's profound and poetic, yet requires much patience on the viewer's part. To be fair, director Terence Malick's beautiful yet self-indulgent film feels like the cinematic equivalent of watching a tree grow.
Visit
Site
for More
Ratings:
4/5
Reviewer:
Shaikh Ayaz
Site:Rediff
There are very few, almost only handful films as compellingly personal in its scope and vision as The Tree of Life. It is sheer poetry as it glides from one moment to the next, meditatively aiming for the mysteries of infinity, spirituality and cosmology.The Tree of Life invokes questions whose answers lay in the belief in God.The Tree of Life is a brave addition to the discipline of filmmaking that traces its roots straight to the oeuvre of Bergman and Tarkovsky
Visit
Site
for More
Ratings:
5/5
Reviewer:
Rashid Irani
Site:HindustanTimes
The maverick writer-director applies the creative energy of his previous films (Badlands, Days of Heaven, The Thin Red Line, The New World) to this one-of-a-kind odyssey called The Tree of Life that we are not likely to forget anytime soon.Be warned, though. The film's elliptical structure, languorous pace and quasi-spiritual musings might alienate many viewers. However, there's no denying the entrancing lyricism with which it's staged.
Visit
Site
for More
Ratings:
3.5/5
Reviewer:
Daniel Pinto
Site:DNA
The Tree of Life encompasses the micro and macro aspects of life and living in a way hitherto thought impossible in cinema.For all its deliberate disjointedness, The Tree of Life isn't pretentious, and it isn't, least of all, predictable. If, while reading this review you think a weak attention span or low tolerance for ambiguity may serve as a deterrent to you gaining something from the film, give it a shot anyway. You just might end up being pleasantly moved to tears.
Visit
Site
for More
Ratings:
3.85/5
Reviewer:
Zadkine
Site:IMDB
The saddest, most insightful, most poignant portrayal of a family I have ever seen. Genius. How can this film achieve commercial success? it seems impossible. How did a film so ambitious get made when everything that makes money today is everything this film isn't? Bravo to the producers, bravo to the early critics who are stepping up and speaking out for this deeply moving masterpiece.
Visit
Site
for More