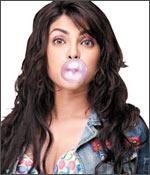 Overall Rating:
1.88/5


From All the reviews on the web
List of
What's Your Raashee
Movie Reviews
Ratings

:

2/5

Reviewer:

Sukanya Verma

Site:

Rediff
There are dollops of humour in the writing and Hurman's perfect timing complements the antics of Priyanka's characters. But at many instances, the gag is simply stretched or falls flat.Another setback is that with as many as 12 Priyanka Chopra, one intermittently gets puzzled in identifying one from the other. Twelve characters are too much for an instant recall. After a point, the boy-girl encounters gets repetitive with cyclic sessions of ' What do you do? What are you hobbies? ' interrogation. The pacing is slow and for a simplistic romantic comedy, What's Your Raashee is tediously long at a 3 hour 30 minute runtime. And despite that the narrative lacks conviction
Ratings

:

2/5

Reviewer:

Suranjana Nandi

Site:

Buzz18
At times one may feel that Gowariker is better off doing period films that require a big scale production. Everyday films are just not his cup of tea. The problem? He makes it too normal. Too 'everyday'. There's a tale. But there's no twist to it. There's a heart. But it doesn't have erratic BP. Rashee is too simple… almost mundane like everyday life.It's too long. Too inane. And at times, very boring. Buy the DVD, in parts if possible but there's no way you can sit through it in the theatre.